The Gift of Touch Case Study
Web & Graphic Design Case study of The Gift of Touch Therapeutic Massage by Sandy Powell, LCMT.
2013 - 2016 The Gift of Touch Therapeutic Massage
Full Identity, Web Build/Design, Logo Design,  
Marketing, 
SEO, Social Media,
 IT Support
Since 2004 Sandy Powell has been running her professional therapeutic massage practice, The Gift of Touch, without too much attention directed toward advertising, marketing, and her online presence
.
As online marketing became more mainstream, she felt challenged to establish an online presence for her business.  
Designing a website to meet this challenge required rich content with highly relevant information. SEO emphasiswas channeled toward Sandy's name, her business name, and the location. The site's header reflected The Gift of Touch'slogo and Sandy's professional photo, her phone number and address, as well asthe menu, of which linked to the about, rates, faq, and contact pages.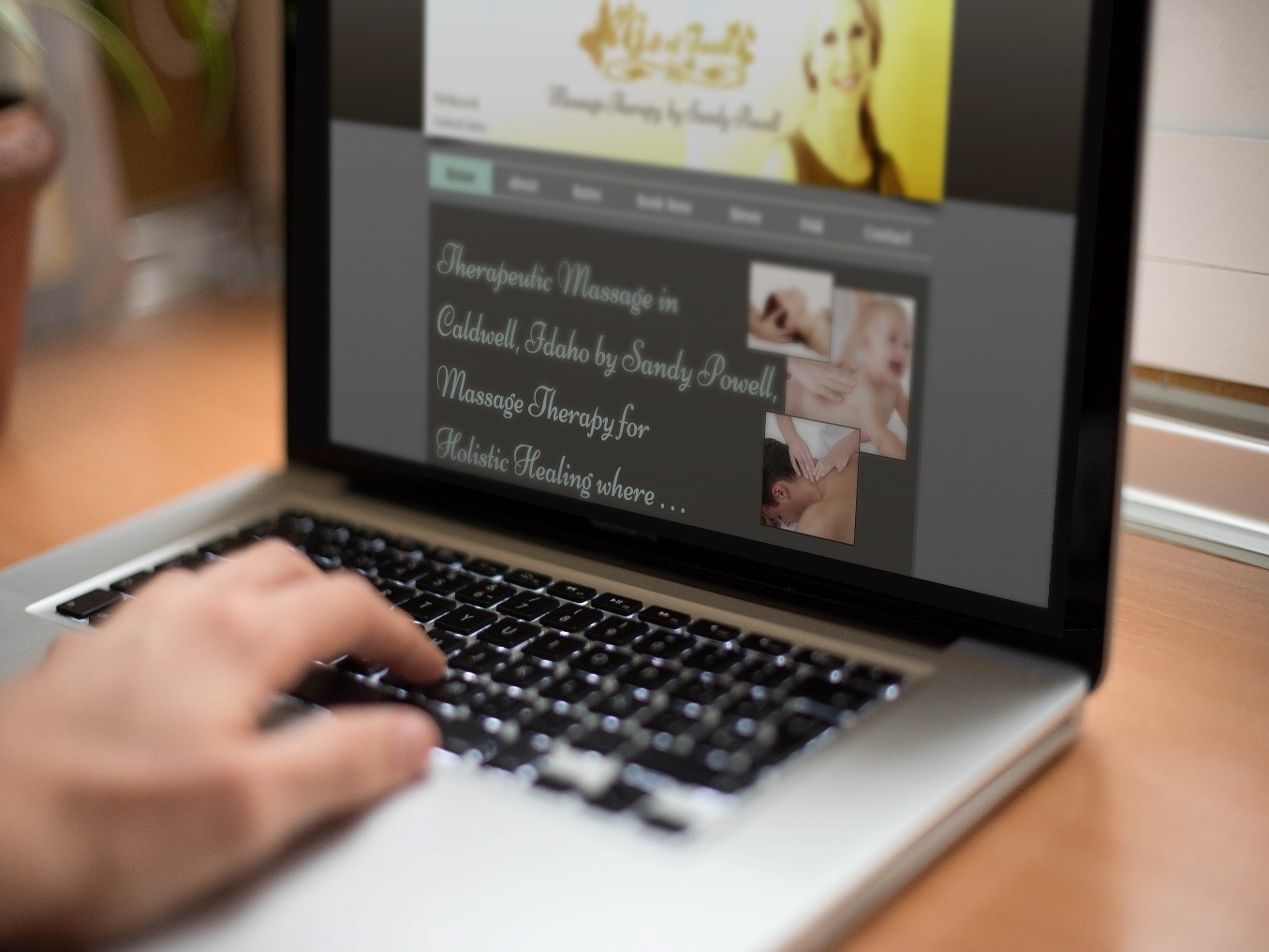 Online Booking, Payment, & Reviews
To best integrate the client's business offline and online, I incorporated Genbook online scheduling software to streamline offline scheduling efforts. Also, PayPalprovided an easy and straightforward means for accepting credit card payments. To help boost the client's reputation, Iplaced real-time reviews throughout the site as indirect calls-to-action. Combined, this provided Sandy increased flexibility to manage her business online.
Results
From 2013 to 2014,the integration of online and offline business was successful. In fact, Sandy collected over 50 verified customer reviews and solidified a 5 star rating for The Gift of Touch.
In 2015, by yearend, internet accessibility had transcended the desktop and the
mainstreaming of smartphone accessibility
presented another challenge for Sandy to be proactive in her online business promotion.
The challenge ahead was to integrate responsive, socially connected (shareable), customer-centered, light content as a means to attract, retain, and manage clients.
In 2016, well-anticipated 
design trends
would prove to enhance Sandy's capacity to foster and engage website traffic.
Starting with designs from 2013, I felt the need to lighten the feel of Sandy's current logo for The Gift of Touch. The following pictures show the progression of the logo redesign from 2014 to 2016.
The redesign of 2014-2015 showed reduction in bulk with the removal of the green background. Softening the logoand combining it with a portrait of Sandy, the therapist, helped create thebridge for solidifying the offline/online divide: Online and off, The Gift of Touch becameknown synonymously as Sandy Powell, LCMT.
In 2016, I redesigned the logo and not only removed all but the text and the butterflies, but I slimmed the font to convey a more elegant quality.

To compliment the newly formed logo, large, high definition images werelayered below and between content to consistently encourage users to flowthrough the website as dictated by their particular need. Whether users wish to learn more aboutmassage or simply wish to book an appointment, bold calls-to-action were strategicallyplaced to intuitively direct users throughout the website. As you explore the interactive demo below,you may notice how strips of content were highlighted with dramatic parallax scrolling.
To increase the client's visibility across the web, I created accounts across 7 social media channels.
Giving special attention to maintaining consistency in regard to business name, address, and phone number, I was able to quickly and easily boost local search ranking.
Merging Online & Offline Business: Print Marketing
Designing the print media for GOT Massage really helped bring the brandidentity together. The Gift of Touch wasreduced to its initials GOT and paired with massage as a play on the "got milk?"ad campaign. As I began to designposters, banners, rack cards, and business card magnets, I realized the bestway to integrate online and offline business is to make them interchangeable atall times.
Utilizing QR codes with refrigerator magnets allowed me to invitepeople to book a massage while standing at their refrigerator or prepay for asession as they pass a banner ad. So thequestion "GOT Massage?" can be answered 24 hours a day, 7 days a week, 365 daysa year without undue interruption to the therapist's routine.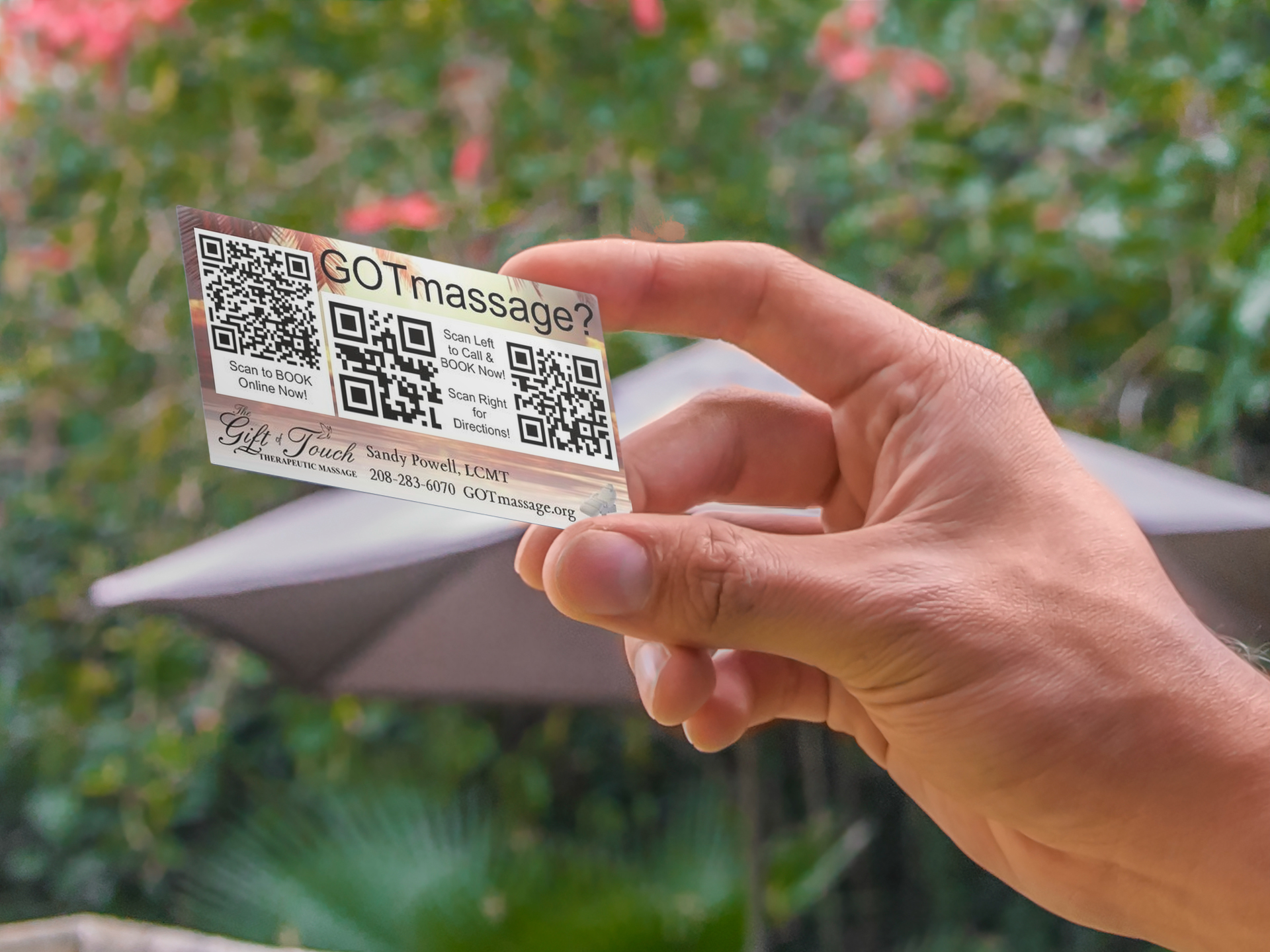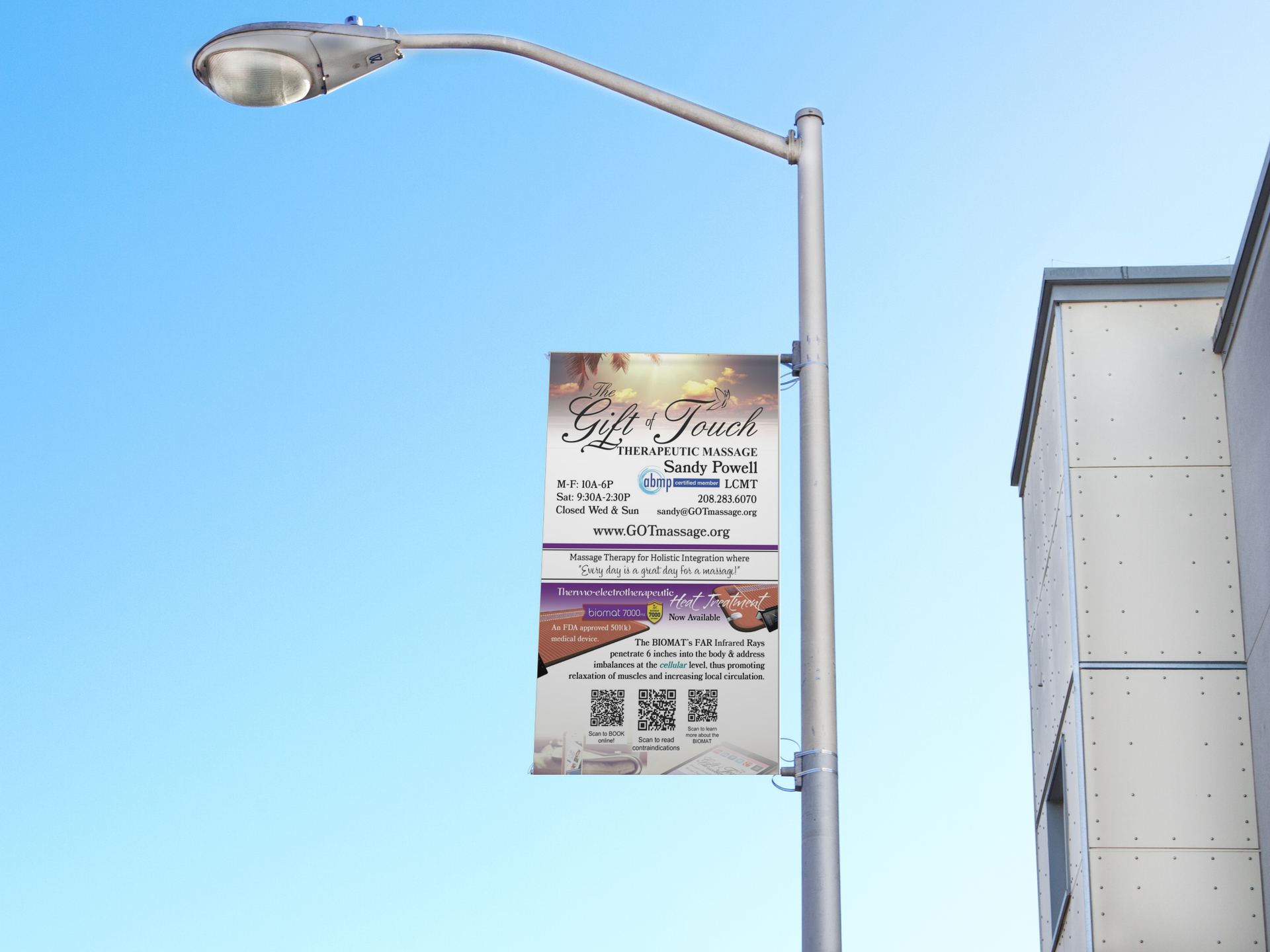 Combining print media with the QR codes' digital content opened upopportunities to introduce, educate, and promote new services, namely, BIOMATheat therapy. I created the content onthe web first and used it as a template for subsequent variations.
The BIOMATS depicted in the layout above become the cornerstone of the poster design and rack card design showcased in the images below.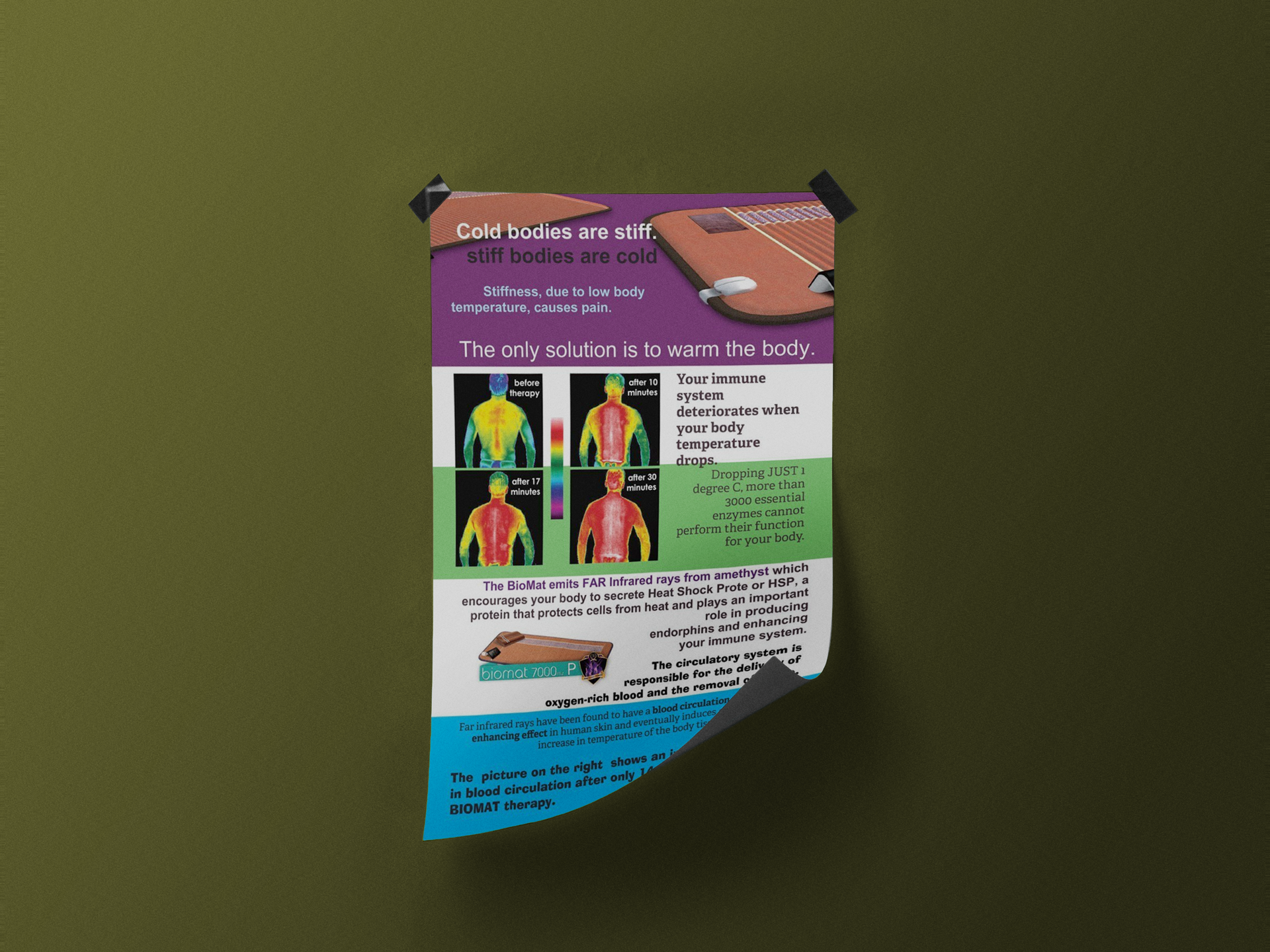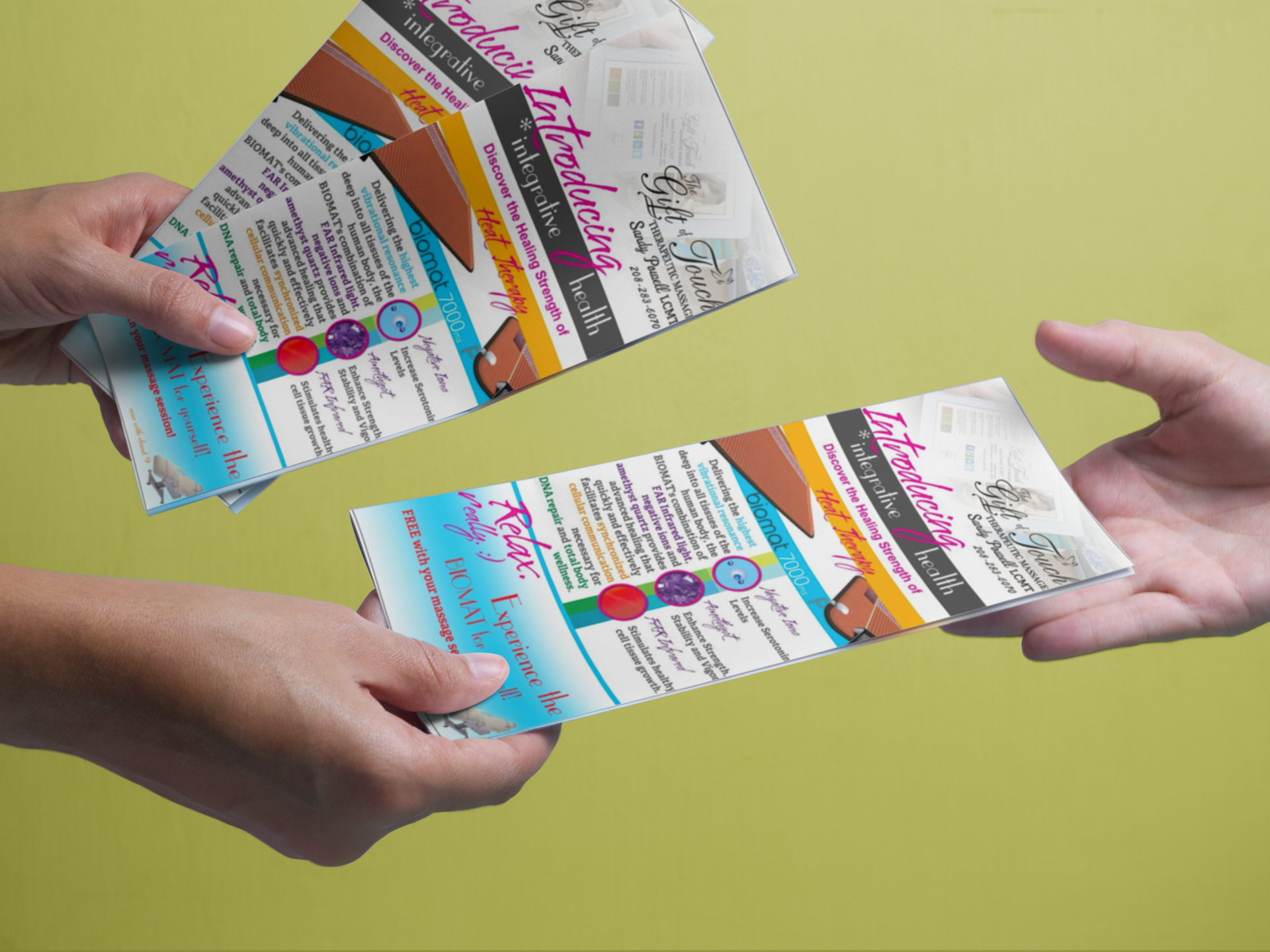 Redesigning the webcontent and online marketing by streamlining it with print media induced asignificant increase in site traffic, online booking conversion, and sales.
With a glowing 5.0review rating, Sandy Powell ranks #1 locally against similar bodywork professionals.
Much progress has been made and there is still room for growth. For instance, web traffic and sales might benefit from paid-search engine optimization, paid social media promotion, and targeted email marketing campaigns.
Analytics notwithstanding, it was important for me to remain mindful to incorporate the many facets of human touch when designing for a service like
The Gift of Touch 
therapeutic massage. Touch is a powerful medium for bringing the mind and body into balance.